Callsign Only
Callsign with Name
Callsign with City & State

Callsign with State Outline
Callsign & Name with Towers
Callsign, Name, & State Outline
Click on the hat design you like below and it will take you to a page where you can see all the hat styles and colors available for that design. You can also order and pay for your hat from that page.
Callsign & Name with Tower
Show off your call sign! Great for Hamfests, Club Meetings, and Field Day.
Callsign Hats & Visors
We offer all types of styles and colors of Callsign Hats. Great for hamfests, field day, and any other amateur radio events
EmComm and Skywarn Hats


Skywarn Logo Hat
Providing professional embroidery and digitizing services for every need.
Embroidered Memories
Winslow, AR

(479) 684-9627
Club Logos We Have Ready For Hats:
Central Kansas ARC Logo
Joplin, Missouri ARC Logo

When All Else Fails....
The Backyard Repeater Group

I'd Tap That with Callsign and Key


Christ Powered with Callsign
Beanie Hat with Callsign Only
(Click on a design below to go to that design order page, you can pick your hat style for each design shown)
SKYWARN Logo
Other designs such as CW Keys, Headhones, Microphones, Your State outline, Antennas, etc are available to be embroidered on one or both sides of our hats. If you would like to add extra designs or something completely custom to your hat, please call or e-mail us for pricing. We would be happy to work with you to get you exactly what you want!

Visor with Callsign Only

Callsign & Name with CW Key

Boonie Hat with Callsign Only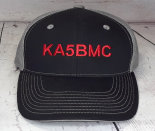 Boonie Hat with Call and Name